/
How to Make $10k from 1/4 Acre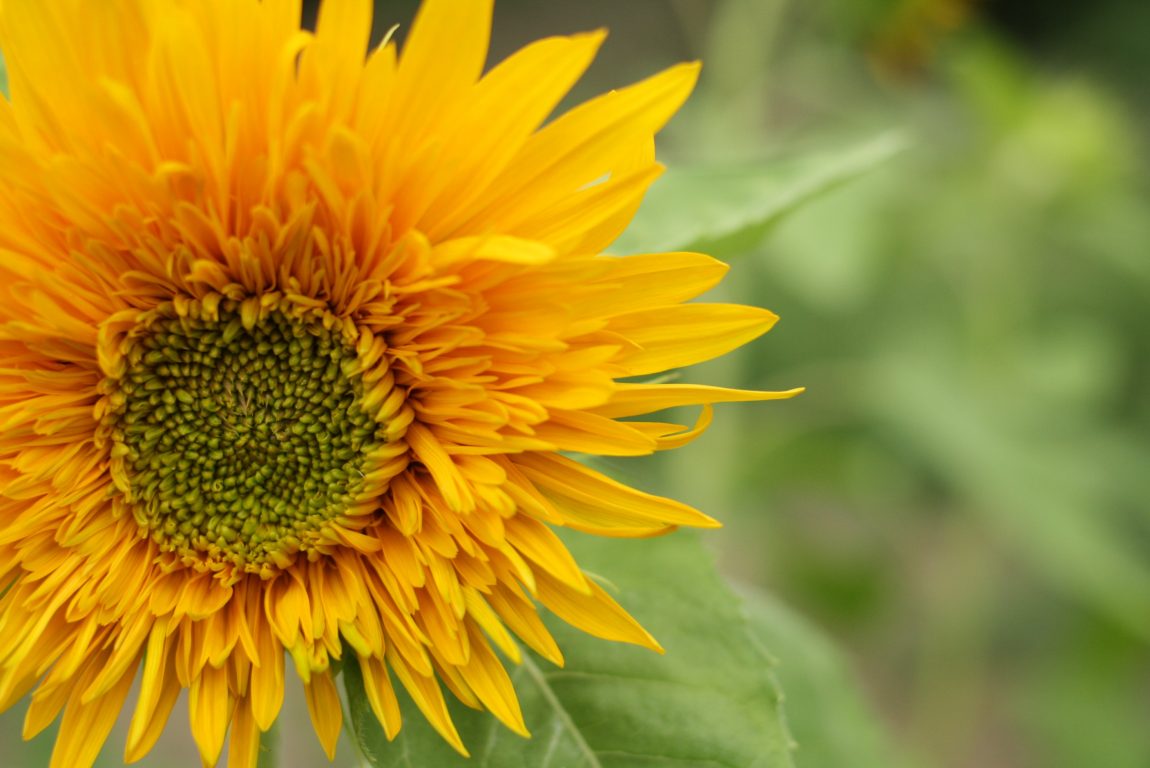 Did you know that one of the easiest cut flowers to grow can also be one of the best selling?
As of 07-April-2020, the Boston Ornamental Terminal Prices reports,
---SUNFLOWER: MARKET STEADY. bunched 5s CA long 7.50-8.50 mostly 7.50 CD long  
9.50 EC long 8.50 NENG long 6.50-7.50 mostly 7.50 NJ long 8.50 PA long 6.50 PE 
long 6.50 bunched 10s CA long 12.50 CD long 12.50 EC long 10.00 Miniature Type 
long 9.50 per stem CA exlong 1.25-1.75 mostly 1.25 EC long 1.00-1.25 mostly    
1.25 NENG long 1.00 NJ long 1.00 NL long 1.00 PE long 1.00 
Did you catch that? Despite a global pandemic, sunflower prices are at a very minimum selling wholesale for $1 USD/stem.
Cut Sunflower Farming
Let's say you have 1/4 acre you'd like to dedicate to growing sunflowers. If you divide that plot up into three foot (36inch) rows, each 100 feet long with two foot (24″) wide paths, you would get 22, three feet rows.
1/4 acre
100′ x 107′
3′ rows
2′ wide paths
It would look a little like this: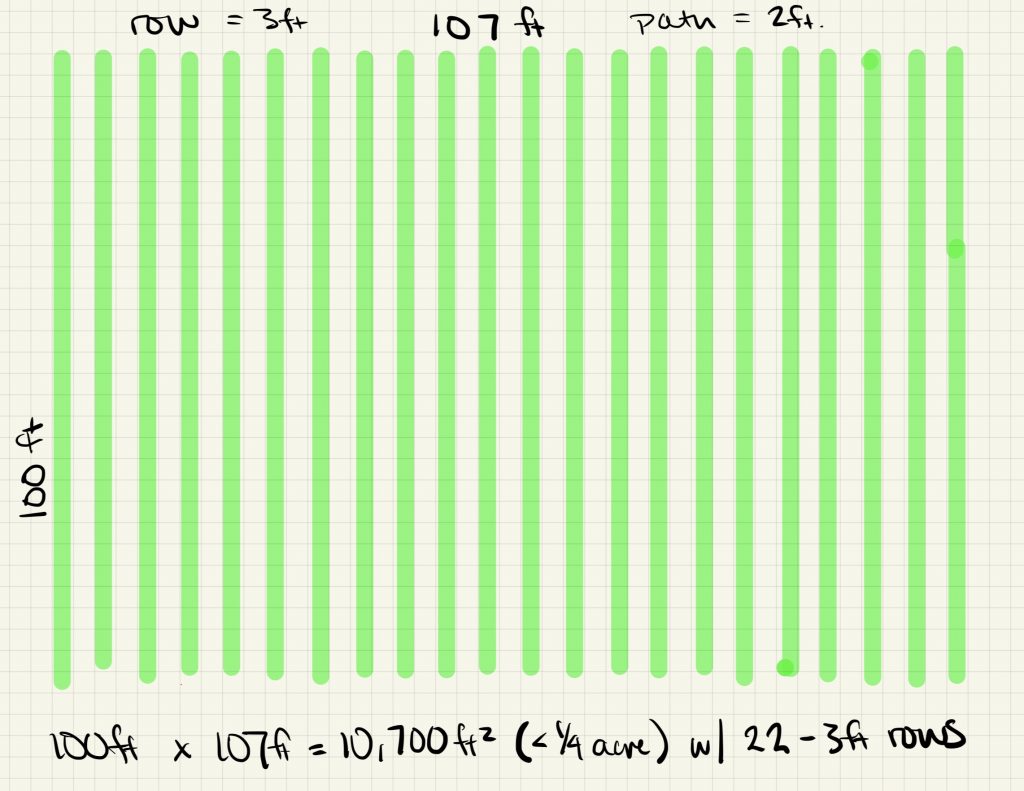 Planting Vs Yield
If you use the "square foot gardening" planting method, you can plant 12 sunflower seeds 6″ apart every foot length of the row. That comes out to be 1200 seeds/plans per 100′ row. With 22 rows, that comes to 26,400 sunflowers planted over 1/4 acre.
I like to assume a 30% loss, this could be due to germination, pests, deficiencies, etc. So, 26,400 sunflowers multiplied by .7 equals an adjusted 18,480 marketable sunflower stems for your quarter acre plot.
6″ spacing
1200 plants/row (remember, there are 22 rows all 100′ long)
1200 plants/row x 22 rows = 26,400 sunflower plants
assume you'll lose some, to assume a 30% loss you'll multiply 0.7 x 26,400
the adjusted total stems = 18,480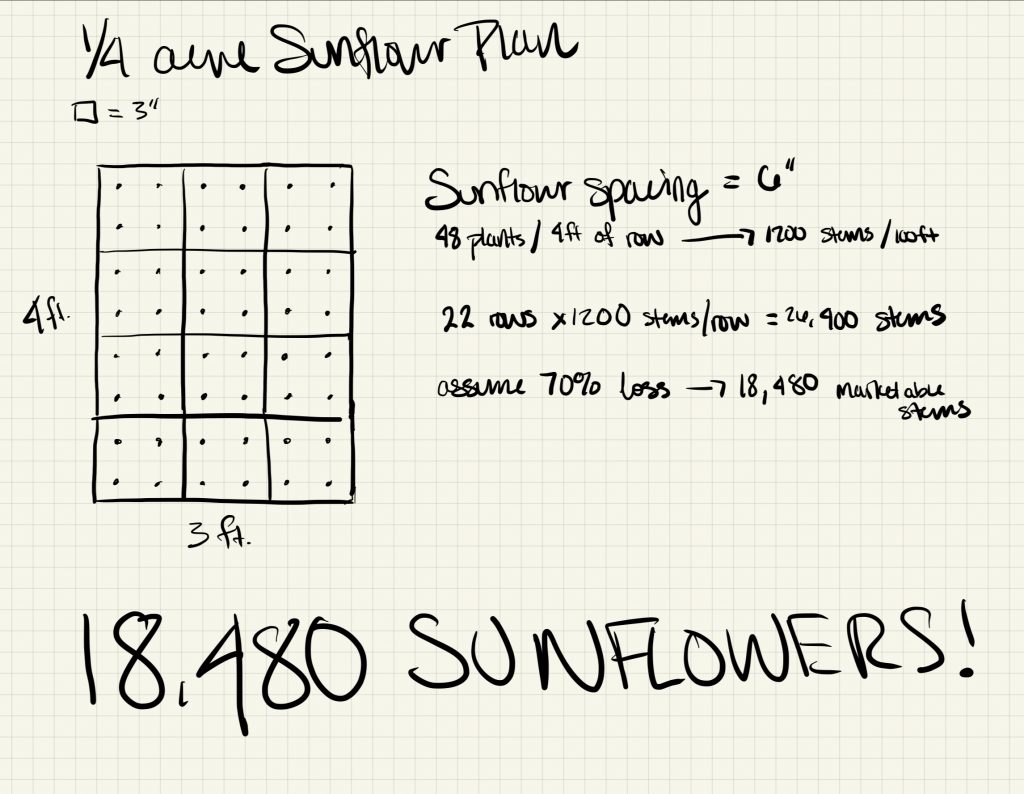 Expenses
Expenses are going to differ to a certain extent for everyone. For these calculations I used the seed price of ProCut Orange Sunflowers from Johnny's Seeds. I did not calculate labor, cooler space/energy usage, buckets, transportation, marketing expenses, or cultivating expenses. There's so much that goes into the production of flowers that will depend on the current resources you already have. Take this estimation as a starting point rather than a total. (Plus, prices are always changing. These are a reflection of the cost at the time of writing).
Here's what I did calculate: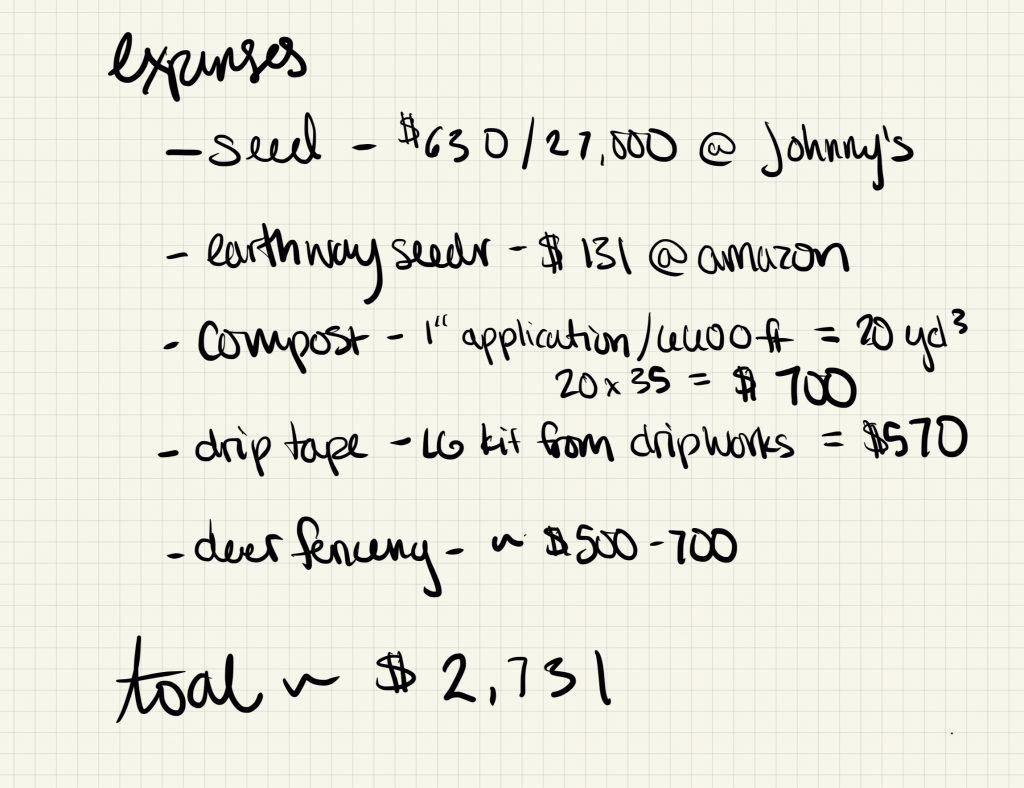 So….How much money is that exactly?
Well, assuming you can sell EVERY SINGLE STEM you harvest, then it's a lot. But more likely than not, you won't be able to sell every single sunflower. Let's assume another 30% loss.
18480*0.7 – 2731 = 10,205
Craziness. In theory, if you sold your sunflowers for $1/stem, you could make $10,205 from sunflowers on only 1/4 acre of land.
After seeing the numbers, Justin asked what he needed to do to help me get our sunflower plot going.
If you want to do more of this type of planning with me, be sure to join the Flower Farm Planner!