/
Fall Planting Planner: which flowers to plant IN YOUR ZONE and when to plant them
If there's anything that keeps me sane in this whole flower farming business, it's having a plan. In order to keep my brain from going overboard with all.the.things. I need to have a place where I keep all of the things I need to do in a logical way. Now I definitely don't have it perfected, but I'm working on it!
Fall Planting is one of those to-do items that often falls to the wayside, especially because I'm too busy with harvesting, weeding, marketing, and designing to think about one more thing.
Factors you need to consider when it comes to fall planting:
Do I still have time to plant it?
How cold hardy is it?
Does it need a cold period in order to bloom?
Start from seed or direct seed or order in as seedlings?
You need to plant out all cool flowers and perennials 6-8 weeks before your FIRST FALL frost date AND those flowers should have been started 4-6 weeks before that transplanting date.
transplant or direct seed 6-8 weeks before your first fall frost date.
start the actual seeds 6 weeks before you transplant them, 12-14 weeks before your first fall frost date.
For example:
My last frost date is September 25 which means that August 14th is my transplanting date AND my direct seeding date. My seed starting date is 6 weeks before that: July 3rd.
I created a planner that says what to grow, whether you should direct seed it or transplant it AND I included recommendations by zone. It's done-for-you, all you need to do is find your dates, see what you still have time to plant. And it is now included as one of the bonuses in The Flower Assistant!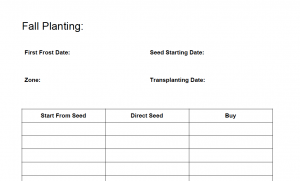 I'm completely behind on my fall planting BUT I'm okay with it because once I filled out my planner I saw the things I still have time to do, it actually took a load off of my plate. It's too late to plant more yarrow, that's okay.  Now I don't have to think about the things I don't have time for. I delegated it to the spring list and that's the end of it.
I've listed in the planner tons of different varieties of cold hardy flowers and when to plant them. But, if you want more information on how to grow "cool flowers", check out Lisa Mason Ziegler's Virtual Book Study HERE. She walks you through all the steps you need to take.
P.S. Lemme know how to make this planner printable better/more helpful! I just threw it together today, so it's not perfect. What questions do you have after going through it? I'll be sure answer them in another post. I'm also going to share my complete flower farm plan as soon as I get it finished!
P.P.S. I actually started to put together a slide deck to make a live video going over all the different varieties but I ran out of time, good idea? If you'd be interested in it leave a comment or send me a msg.