/
Cut Flower Farm | Choosing a Business Model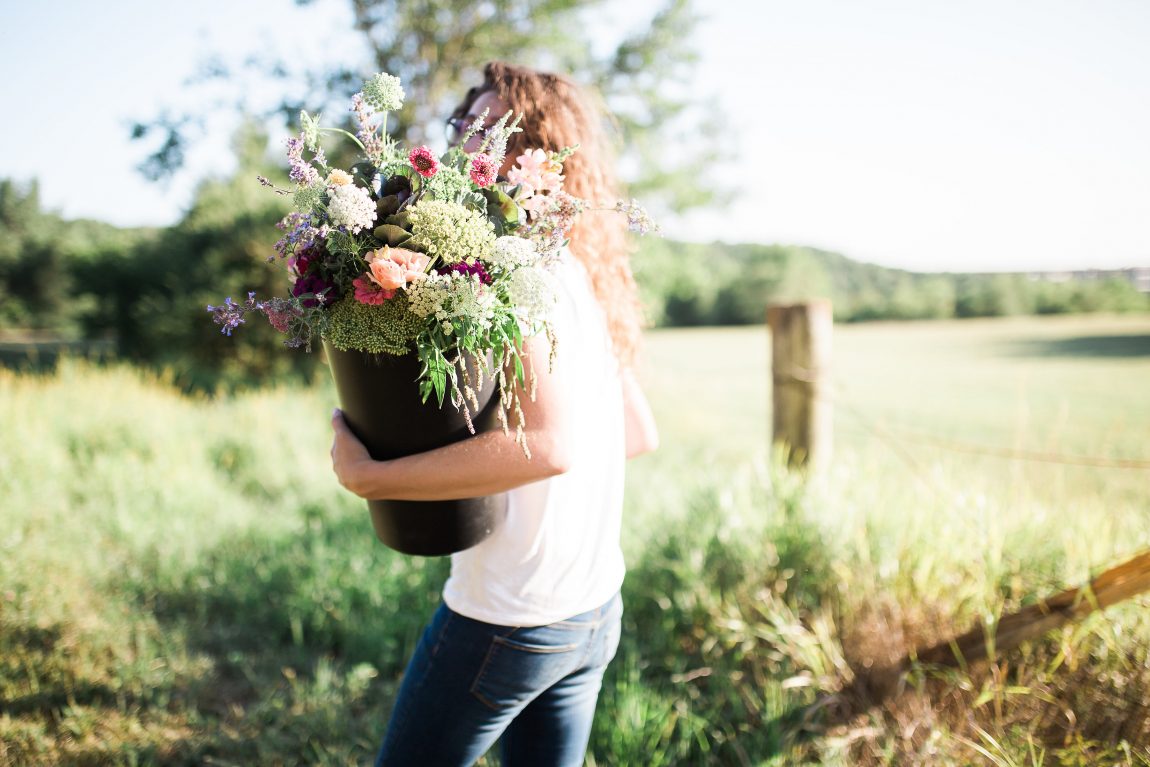 Which business model is best for you? Wholesale? Design? Wedding? DIY buckets?
To give you an idea of what might work for you here's another section from my book…
8 Common Selling Avenues for Farmers
The following is a list of traditional ways flower farmers have sold flowers. It's a great place to start but don't be afraid to try new things! I've also included a list of the supplies you'll need for each category.
Farmer's Markets
When you first think of selling flowers, a farmer's market is probably what comes to mind. They can be a great source of income, or they can be a total fail. It really depends on your area. You can either make bank or go home with barely enough to cover your time spent, let alone the cost of the flowers you grow.
Contact your local markets and ask about their foot traffic. Who is selling flowers there already? What is popular and what isn't? Do they think the market could properly support a flower farm? You will need to do some research too. What is the economic and social status in your area? Do people value local and sustainable growers? And more importantly, do they value it enough to shell out their own money?
I am grateful to have established farming friends that take my flowers to market for me. Not all markets allow this, so be sure to check before you count on it as a source of income. Farmer's markets do offer a chance for your name to get out there and are a good opportunity to show off your flowers and design work. Overall, farmer's markets can be a great way to promote your farm.
What you'll need:
A tent

Display stand for your flowers.

Farm and pricing signs

Business cards
Retail Florists
What you want to do when it comes to florists is "wow" them. They can often be a bit skeptical of flower farmers, and for good reason. They need to know that you are a professional grower who can supply them on a consistent basis with quality product. A lot of growers will recommend waiting to approach florists until you have flowers to give them.
I was too impatient and couldn't wait, so I went ahead and introduced myself before my season. However, I still had to show them that I could actually grow flowers. While it helped to establish relationships with them early on, they needed to see my flowers to really understand what I was offering.
If florists are your ideal market, take time to find out exactly how you can help them.
Start by making a list of all local florists and then do some research. When you approach them you should have a list of what you are growing, when (approximately) it will be available, and how much money you are asking per bunch. Take the time to ask them what they recommend, and what they usually order, and what they wish they had access to but don't.
Talking to florists isn't as scary as it can seem, I promise. They are hard working entrepreneurs just like us who also understand the dichotomy between selling and creating. You got this! I know it can be hard because you want to help florists, not take business from them. Just be kind and friendly. Operate from a place of true service and I'm sure they'll love you too.
What you'll need:
Grocery Stores
Selling to grocery stores requires a few more steps: you will need to be prepared to supply a stand for the flowers and bar codes for each bouquet. Typically grocery stores will take a 30-40% commission. Look for stores that are already buying product from local vegetable growers. They will be the most receptive to selling your flowers. You will want to give them numbers, how many bouquets you will be supplying for how many weeks and what they should do with any unsold bouquets.
What you'll need:
Display stand

Bar codes

Sleeves or wraps

CVBN tablets (https://www.chrysal.com/en-us/products/chrysal-cvbn)
CSA – Community Shared Agriculture
When you and your customers hear "CSA shares", the first thought that comes to mind is vegetables. A CSA works by the customer paying the farmer before the season begins for a weekly "share" of vegetables. It is giving the customer a guarantee of products on a weekly basis while ensuring you, the farmer, a way to get your product directly into the hands of your customers. The benefit of selling this way is that CSAs are paid upfront which provides some capital before the growing season starts.
This same concept can be applied to flower farms. You might want to try calling it something aside from a CSA; my customers got a little confused since I'm selling flowers, not vegetables. But they loved the idea of a weekly bouquet subscription.
What's nice about CSA's is that you get to decide exactly what you want to do and how you want to do it. You have the ability to chose when it starts and how long it will last. You can offer monthly, bi-monthly or weekly options. The length of your subscription is also up to you (10 weeks is fairly typical). You can do longer or shorter subscriptions depending on where you live and what you think your market will support.
Also, it's a great way to move product when you have excess. For instance, my CSA doesn't even start until July because that's when I have twice as many flowers.
What you'll need:
Drop off site (or delivery plan)

Detailed sales page on your website explaining exactly what you are offering

Buckets/display stand
Businesses & Restaurants
Selling to businesses and restaurants is a great way to raise brand awareness while selling flowers. To make things simple for restaurants, you can offer to loan them vases each week along with the flowers.
I take flowers in bud vases to my local coffee shop, and each week I take home the dirty vases to wash. This adds value for local businesses, because it is one less thing for them to worry about. Approaching businesses after you have flowers is the best bet. Give them an arrangement or two, and they will realize how much beauty flowers bring to their space.
What you'll need:
Roadside Stand
My roadside stand is my bread and butter. I live in a small town in the middle of Iowa and it's amazeballs how many people stop by on a weekly basis!
Typically stands are left unattended. They seem to work best in public populated areas with a lot of traffic. Try offering two different price points.
I read about a stand on the Flower Farmer's Facebook group that makes $700 a week! They keep their stand stocked with $5 bouquets and sell them on a regular basis, because they are located by a country club and golf course. (I couldn't find the original post, but if this is you, send me an email, I think you're amazing!)
If you don't have a prime location, you can look into setting up a stand in town. Head to your city hall to find out what license they require.
We're in the middle of moving so I am having to reassess my stand. At the moment it is in our side lot right along one of two main throughways in our town. I've talked to one of the local coffee shop owners about putting it outside their store. It would be stocked with bouquets every weekend and to keep thefts to a minimum, I'd have a camera in place with a warning that anyone who steals will have their picture posted on the community Facebook page. I can't imagine a worse punishment!
What you'll need:
License

Stand

Lock box

Prominent location

Signs
Weddings
Weddings and events can often be the most lucrative option for flower farmers. They command a higher price than market bouquets but also require more work and design technique. If you are interested in selling to brides, read this article that Lennie Larkin of B-Side Farm wrote titled, "How to Become a Farmer/Florist – My Talk at the Oregon Small Farms Conference."
It's chock full of helpful info and she lays out her step by step process of becoming a farmer/florist that caters to brides.
What you'll need:
Detailed sales page on your website explaining your services

Contract & sales proposal
PYO – Pick Your Own
This is another way to sell flowers that is largely dependent on your location. It is a great option especially for those in metropolitan areas — a place where not many people garden themselves and are looking for experiences in nature.
What you'll need:
Cute signage

Pricing list

Business cards

Buckets for customers

Clippers for customers"