/
Cut Flowers 101: What to Grow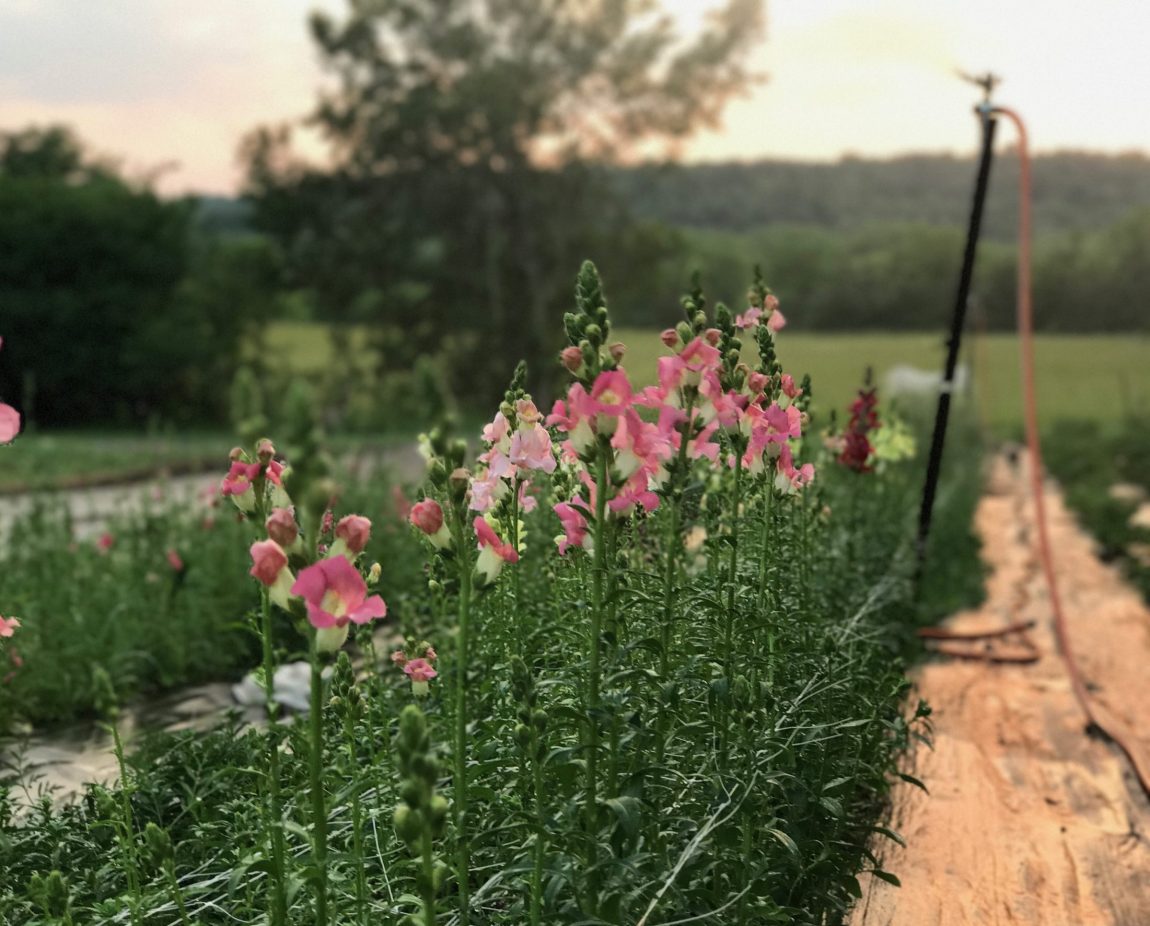 I made this list specifically for those of us that get what I like to call, "seed catalog syndrome." It's a pretty serious condition where you can't seem to stop buying seeds. You may suffer from it if you've ever had the following conversations WITH YOURSELF…
"What's 1000 more seeds?"
"It's only 4.95. I mean, obviously I won't buy coffee tomorrow.
Ohh pretty! Lemme just add those to my cart.
So, uh, no coffee for the next month?
Sure, I can do that.
#worthit."
"I need ALL THE COLORS."
"Hm…I've never heard of that before, but I must be gettin' it."
Sound familiar?
Um, yeah, you might have a problem.
This list is also for those of you that are just getting started and need to know exactly what it is you can grow and make a profit from your first year. I've done all the research for you so that you can spend more time weeding. You're welcome. 😉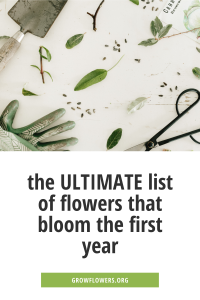 THE FIRST YEAR FLOWERS ULTIMATE LIST OF WHAT TO GROW
WHAT YOU GET:
40 flowers that make good cuts & can be profitable in the first year of growing
The recommended varieties: not all flowers are the same
Spacing guidelines
When to harvest
Pinching recommendations
Netting recommendations
HOW TO USE THIS LIST:
Nothing is really concrete in flower farming. EVERYONE and their mother has differing opinions on how to space and to-pinch or not-pinch.
The thing you need to know is this:
Given sunlight, water, and good dirt, your flowers WILL grow. And yep, some of your stems will be too short, you will have bugs, and your local florist will tell you that they don't really compare to the flowers she can buy in.
And that's okay.
You will learn as you go. No one knows your dirt and your weather better than you do.
Try, make mistakes, and do it differently next year. Keep notes and records and keep on keepin' on.
Hopefully this list helps you decide what to plant and trims down your catalog time. Print it out and keep it handy!
All the best,
Sarah
P.S. Johnny's Selected Seeds and Specialty Cut Flowers were my go-to's in compiling this information.
40 flower varieties to grow for your cut flower farm
Achillea
Varieties: Colorado Mix, the Pearl, etc.
Spacing: 12"
Harvest: when flowers are fully formed and pollen is visible
Ageratum
Varieties: Blue Horizon, Tall Blue Planet
Spacing: 9"
Harvest: when spikes 3/4 open
Pinch: yes
Net: yes
Agrostemma
Varieties: Ocean Pearls, Purple Queen
Spacing: 6"
Harvest: when 1-2 flowers in spray are open
Amaranthus
Varieties: Coral Fountains, hot biscuit, oppeo
Spacing: 12"
Harvest: when 3/4 are open
Pinch: Yes
Net: Yes
Ammi
Varieties: Graceland, Green Mist
Spacing: 9-12"
80% are open
Artemisia
Varieties: Sweet Annie
Spacing: 12"
Harvest: once flower heads have developed or once stems are green and full
Basil
Varieties: Aromatto, Lemon, Cinnamon, African Blue, Oriental
Spacing: 8"
Harvest: when flowers begin to open
Pinch: Yes
Bells of Ireland
Spacing: 12"
Harvest: when flowers are 1/2 open
Pinch: Yes
Net: Yes
Bupleurum
Varieties: Green Gold, Griffiti
Spacing: 8-10"
Harvest: whenflower heads show color and are almost all the way open
Celosia
Varieties: Cramer's, Chief, Pampas Plume, Spicatica, Cristata
Spacing: 9"
Harvest: when flowers along bract are completely open
Pinch: Yes, all except for bombay
Net: Yes
Centaurea
Varieties: Boy Series
Spacing: 6"
Harvest: when flowers are 1/4 – 1/2 open
Cerinthe
Varieties: Gladiator, Kiwi Blue
Spacing: 9-12"
Harvest: most stages, when flowers form
Cosmos
Varieties: Cupcake, Double Click, Sensation, Versailles
Spacing: 9"
Harvest: when buds begin to crack
Pinch: Yes
Net: yes
Cynoglossum
Varieties: Chinese Forget Me-Not, Rose Magic
Spacing: 9"
Harvest: 1/3-1/2 blooms are open
Delphinium
Varieties: Belladonna, Magic Fountains
Spacing: 9"
Harvest: 1/4-1/3 of blooms on the stem are open
Pinch: Yes
Net: Yes
Dianthus
Varieties: Amazon, Electron, (both FYF)
Spacing: 6"
Harvest: when flowers are 10% open
Net: Yes
Dusty Miller
Varieties: Circadians, New Look
Spacing: 9"
Harvest: when stems are hard and woody
Eucalyptus
Varieties: Lemon Bush, Silver Drop, Silver Dollar
Spacing: 12"
Harvest: after stems mature and leaves feel leathery
Pinch: Yes
Euphorbia
Varieties: Mountain Snow
Spacing: 6-9"
Harvest: before flowers are fully open but when bracts are colored
Godetia (clarkia)
Varieties: Grace Series
Spacing: 4-5" unpinched, 20-24" pinched
Harvest: when first flowers on the stem are open
Gomphrena
Varieties: Audrey, QIS Series, Strawberry Fields
Spacing: 6-9"
Harvest: when flowers are in color and partially open
Flowering Kale
Varieties:Crane Series
Spacing: 6"
Harvest: when flowers are colored and 6"
Net: Yes
Lisianthus
Varieties: Arena, Doublini, Echo, Miriachi
Spacing: 6"
Harvest: when one or more flowers on the stem are open, they will not continue to open once cut
Net: Yes
Larkspur
Varieties: QIS, Giant Imperial, Messenger
Spacing: 4-6"
Harvest: when 1/4 to 1/2 of the flowers are open on the stem
Marigold
Varieties: Jedi
Spacing: 8"
Harvest: when flowers open
Pinch: Yes
Matricaria
Varieties: Magic, Tetra, Ultra
Spacing: 8"
Harvest: when flower cluster is mostly open
Net: Yes
Millet
Varieties: Lime Light, Purple Majesty, etc.
Spacing: 1/2"
Harvest: when fully open
Nigella
Varieties: Albion, Cramer's, Miss Jekyll, etc.a
Spacing: 6"
Harvest: when buds are fully colored but before petals have separated completely from the center
Orlaya
Varieties: White Finch
Spacing: 9"
Harvest: when 80% are open
Poppies
Varieties: Champagne Bubbles, Colibri
Spacing: 6"
Harvest: When buds begin to crack, sear stems with heat
Rudbeckia
Varieties: Prairie Sun, Tribola, Indian Summer
Spacing: 12"
Harvest: when flowers are all the way open

Scabiosa (annual)
Varieties: Pincushion, Stelatta
Spacing:9"
Harvest: When the canter flower just starts to unfurl
Scabiosa (perennial)
Varieties: Fama
Spacing: 12"
Harvest: bud to half open
Shiso (Perilla)
Varieties: Britton, Red, Green
Spacing: 12"
Harvest: when stems are mature
Snapdragon
Varieties: Chantilly, Madam Butterfly, Opus, Rocket
Spacing: 9"
Harvest: when the bottom 1/3-1/2 blooms are open
Net: Yes
Statice
Varieties: Fortress, QIS, Pastel Shades, etc.
Spacing: 9"
Harvest: When you can see the white of the individual flowers
Net: Yes
Stock
Varieties: Cheerful, Katz, Iron
Spacing: 6"
Harvest: When 1/2 the flowers are open on the inflorescence
Net: Yes
Sunflowers
Varieties: Pro Cut, Vincent, etc.
Spacing: 6" (9" branching: pananche, lemon starburst, chocolate)
Harvest; When petals begin to lift
Net: Yes
Sweet Peas
Varieties: Elegance, Spencer
Spacing: 6-8"
Harvest: When stems reach 12" and 2-3 flowers start to color
Pinch: Yes
Zinnias
Varieties: Benary's Giant, Oklahoma, Persian Carpet, Queen Red Lime
Spacing: 12"
Harvest: when stems harden and flower heads no longer flop
Pinch: Yes
Net: Yes