/
How to Turn Your Hay Field Into a Flower Farm: Part 2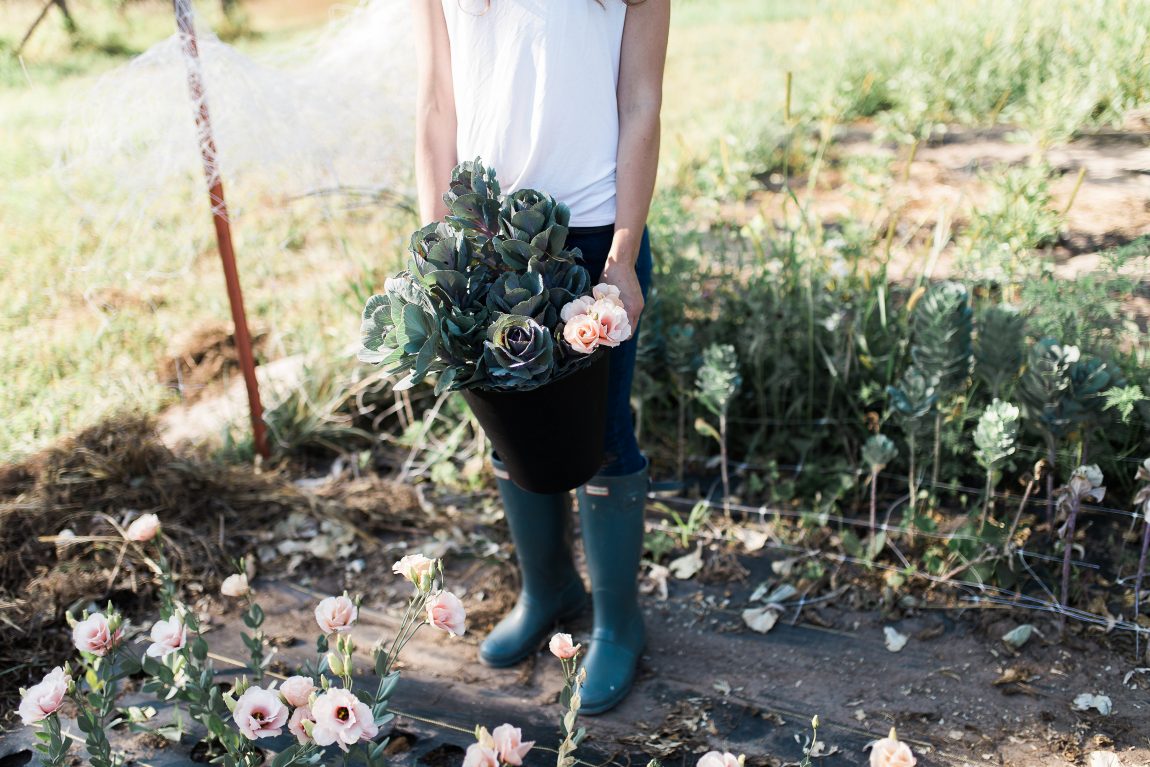 Read Part 1 HERE
We've all been there, staring down a piece of land covered in weeds and grass, wondering where to begin. Cultivating soil is work. So much work.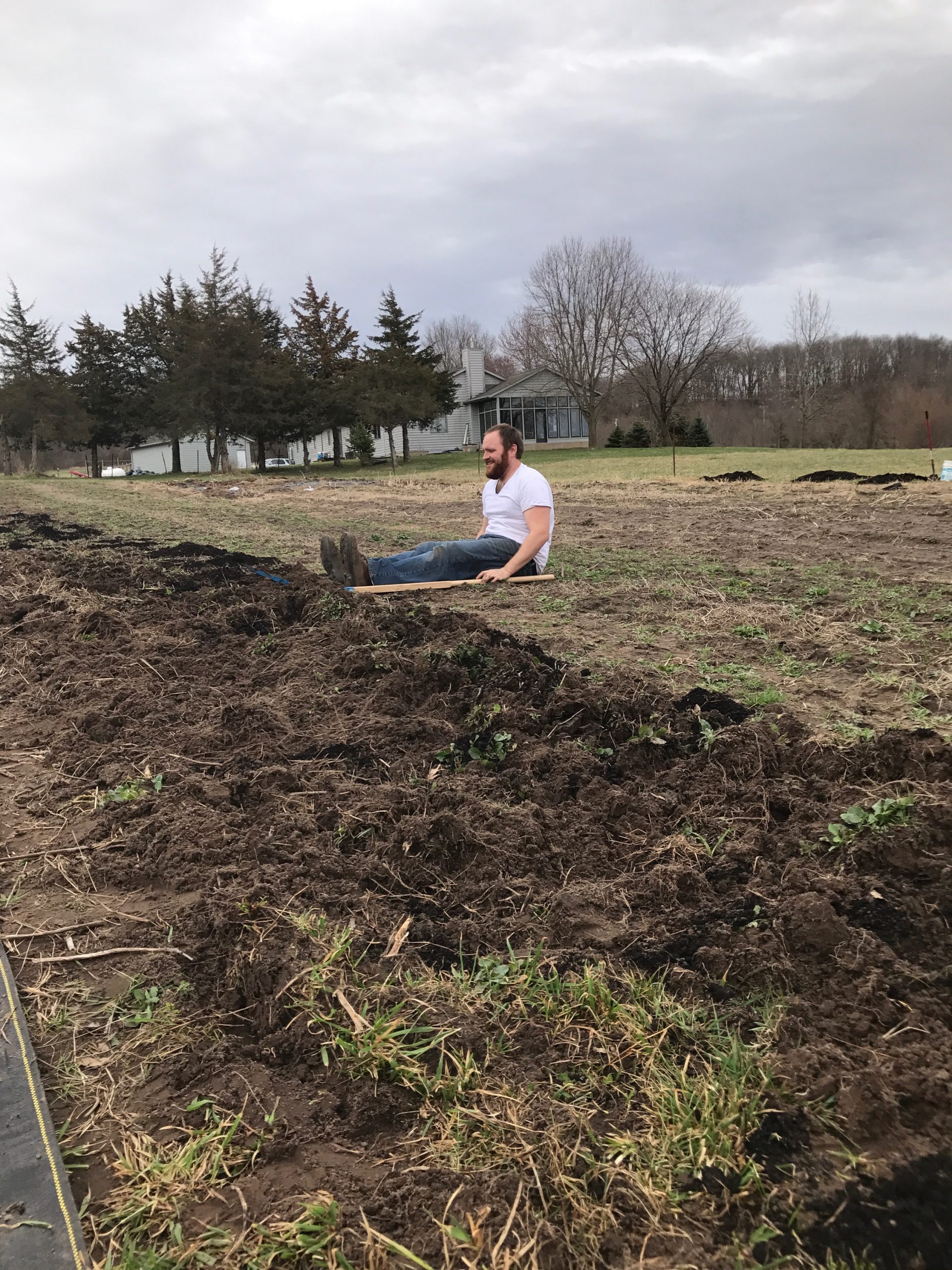 Conventional growing uses tillers, plows and herbicide, but is that the best we can do? What is healthiest for our land?
Until a couple months ago I was 100% anti tilling. Actually, more like 88.7 percent. You see, while I have done quite a bit of lasagna gardening and lots of tapping, I've never been able to go completely no till. Mostly because I've never had enough hours in the day to actually move compost. (Justin blames it on the fact that we've always been too cheap to rent equipment to move it too…) Now I am not so sure. I do think that permanent beds are the way to go, but sometimes you need to use mechanical means to get there.
What to do instead?
There are a few options if you've decided not grow conventionally:
Occultation – this is killing any plants growing by covering them with tarps for anywhere from 1-6 months. You can buy used billboards, or uv treated tarps, but I'm cheap and have always used painters tarps or extra landscape fabric. After the vegetation is dead, you can make beds by adding organic matter and using a broadfork to break up any hard pan.

Minimal tillage- this is using mechanical means to first make the beds, and then cultivating it by hand from there.

No dig using lasagna layering methods – this requires a lot of materials but is great for increasing soil fertility. It essentially works in the same way as occultation, but instead of tarps you are using organic matter that decomposes, like cardboard, paper, straw, etc.
There are a lot of farmers out there teaching about this stuff, here are a few of my favorite experts!
Occultation:
Occulation is hands down my favorite way to suppress weed growth. Bare Mountain Farm has an amazing system in place. You can read more about their experiments on their blog. HERE, and definitely check out their YouTube channel by clicking HERE. Their channel is excellent.
Minimal tillage:
The idea is basically to use a tractor to work the ground and create a permanent bed system. This talk by JM Fortier is really great and a good look at his system and what he's learned. You can find his entire YouTube channel HERE.
No dig with compost/mulch:
I'm a huge fan girl of Charles Dowding. His books are amazing as is everything on his YouTube channel, HERE. I especially like this video of how he converts a weedy yard to a garden HERE. My favorite thing is how he shows examples of differences in fertility based on different composts and bed preparations.
My experiences:
I've always aspired to not till but have never physically been strong enough to pull it off. When I first started I tried double digging beds with a 10 month old strapped to my back and a two year old begging to be held all while having chronic migraines. After 4 pitifully small 10 ft long double dug beds I gave up. I just couldn't do it and we tilled.
Since then I've turned to tarping to help smother the weeds, but I'm also terrible at cutting down seed heads so it's a constant battle.
I have managed to do no till raised beds on a smaller scale, it just takes a lot of time (and organic matter!)
Now that we are in New Mexico I am super excited because the ground isn't frozen. I am still researching growing with the hard pan and alkaline soil, but I'm looking forward to learning more about stewarding the desert.
In my idea of world I would live in a place that had free compost and lots of leaves/moldy hay to use to build the soils. For now I'll stick with gathering as many cow pies as I can!
My plan:
Like I mentioned before, at our new farm I have two different plots to cultivate. The one in front of our house is fairly sandy and regularly gets huge strong gusts of wind. The second is down a hill, somewhat protected on two sides by a wind break. Both plots have been used on our landowners organic farm previously.
One of the most amazing things about where we are now is that the ground isn't frozen. This climate basically means I can work outside 95% of the year, compared to only 4-5 months in Iowa. That's a lot of extra time to put into bed prep.
While my ultimate goal is no till, I am going to plow and till to begin. We will plow everything, till, plow again to create raised beds. Then I'll go through and layer as much compost on each new raised bed as possible. Wood chips are going in the aisles and once monsoon season starts I'll be able to cover the crops with straw (otherwise it would all just blow away in the wind). I looked into buying a large amount of compost but the distance we'd have to have it delivered is prohibitive, not to mention the cost!
One of the things I value is doing the best you can with what you have. All of us have different resources, talents and abilities. Add on that a huge assortment of limitations and no wonder we all disagree all the time. I'm a firm believer that you simply do what you can with the resources and limitations you have.
Chime in on the forum HERE and let me know how you are cultivating your field!